Access Map
By Bus
Shinjuku station (Busta Shinjuku) ----- Express bus (1h 45min) ----- Kawaguchiko Station ----- Hotel Asafuji
Tokyo station ----- Express bus (2h 20min) ----- Kawaguchiko Station ----- Hotel Asafuji
Haneda Airport ----- Express bus (2h 45min) ----- Kawaguchiko Station ----- Hotel Asafuji
Narita Airport ----- Express bus (3h 20min) ----- Kawaguchiko Station ----- Hotel Asafuji
Mishima station ----- Express bus (1h 35min) ----- Kawaguchiko Station ----- Hotel Asafuji
Nagoya station (Meitetsu Bus Center) ----- Express bus (3h 20min) ----- Kawaguchiko Station ----- Hotel Asafuji
Hida Takayama ----- Express bus (4h 40min) ----- Kawaguchiko Station ----- Hotel Asafuji
Osaka,Kyoto ----- Night bus (11h 0min) ----- Kawaguchiko Station ----- Hotel Asafuji
By Train
Shinjuku (Tokyo area) ----- JR Chūō Line (1h 36min) ----- Otsuki ----- Fuji Express Line (54min) ----- Kawaguchiko Station ----- Hotel Asafuji
Nagano (Nagano area) ----- Shinano railway ----- Shinonoi ----- Shinonoi Line ----- Shiojiri ----- JR JR Chūō Line ----- Otsuki ----- Fuji Express Line ----- Kawaguchiko Station ----- Hotel Asafuji
Nagoya station (Nagoya area) ----- JR Toukaido Line ----- Shinfuji ----- Fujikyu Express / Bus ----- Kawaguchiko Station ----- Hotel Asafuji
Nagoya station (Nagoya area) ----- JR Toukaido Shinkansen ----- Mishima ----- Fujikyu bus ----- Yamanaka Lake ----- Fujiyoshida ----- Hotel Asafuji
How to get our hotel from Kawaguchiko station
We offer our guests a free pick-up service from 9:00A.M. to 8:00P.M. on the day of staying.
(The pick up stop at Kawaguchiko station is No. 10)

Except for the above time, please use a taxi.

Please call us when you arrive at Kawaguchiko station.
tel:86-555-72-1259(domestic:0555-72-1259)

In case you do not have a cellphone,if you visit tourist information center and explain details, the travel guide can contact us.

Please note that you need to arrive at Kawaguchiko station by 18:00 if you make reservations with dinner.
Kawaguchiko Station
The pick up stop at Kawaguchiko station is No. 10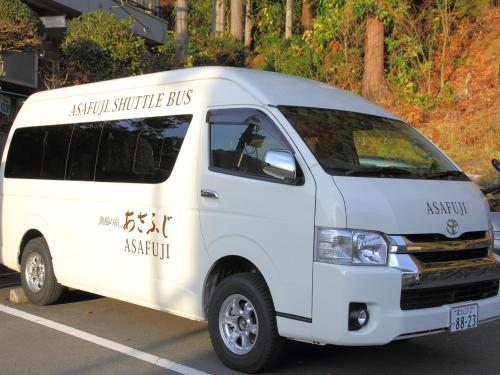 Our Pick-up car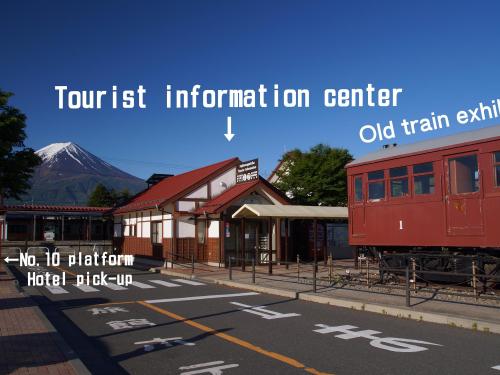 Tourist Information Office