Tatami flooring dinner (dinner / breakfast)
The meal is a chair / table seat
Creative cuisine Asafuji party Menu for a day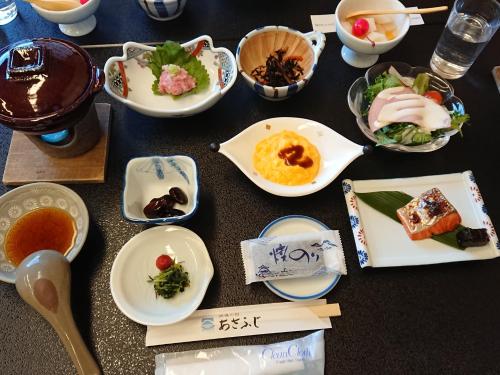 The most highly rated customer survey is that the dishes

Because it is a small inn in 13 rooms, carefully handmade one item per item.

In order to taste the freshness, we also devise ways to provide the serving staff every day.
「美味しかったよ!」

お客様のその声が私どもにとって、とっても励みになります。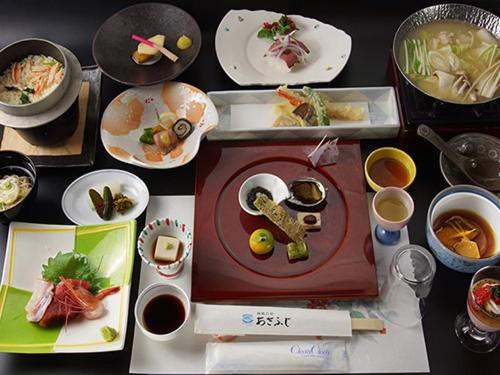 "it was delicious!"
That customer's voice is very encouraging to us.
We will change the content of the menu without notice due to the seasons and preparation of food ingredients so please thank you for that.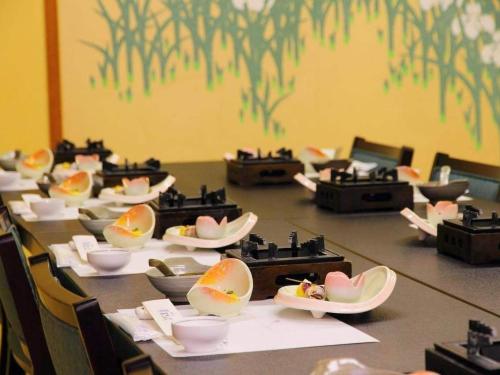 · If you wish for breakfast and / or dinner, please make a reservation with meal plan.

· Guests booking with dinner must check in by 18:00.

· If you arrive after the above time, you may not be able to provide dinner (non refundable).
Note) If you have food allergies or dietary restrictions, please state in that request in the request column at the time of booking.

We can not respond to requests on check-in date (upon arrival), as we may not be able to comply with your request depending on the request content, so thank you for your understanding and understanding.
Points to keep in mind regarding food allergy
Because all ingredients are cooked in the same kitchen, allergic causing substances may be mixed.

Please note that due to the reasons above, not all dishes offered are complete alergen correspondence menu.

If allergic symptoms are severe, we may refuse to provide meals unavoidably because we give our customers the highest priority to safety.